Challenge: The event sponsorship process is inefficient, time intensive and expensive.
Utz, the beloved snack brand across the U.S., sponsors a wide variety of events each year to drive brand awareness and sampling. On average, each event sponsorship takes 25 hours to finalize, which is the equivalent to more than 3 business days. The manual process is not scalable, painful and highly inefficient.
To add another layer of complexity, college students were a priority audience for the brand. Working with universities to sponsor events can be a challenge due to policies and restrictions that even the most seasoned field marketing professionals struggle with.
When asked to describe the experience working with universities to reach students, Carrie Berger, Brand Manager at Utz, used one word: "chaotic."
"RECESS took the work off my shoulders.
I saved time by getting everything done
all at once using
their one-stop service"
Utz partnered with RECESS to identify, book and manage three event sponsorships end-to-end in their local Arizona market, from sourcing through to execution. RECESS' technology maximizes efficiency for marketers by removing a bulk of the manual labor associated with sponsorship marketing so that time can be allocated to other priorities.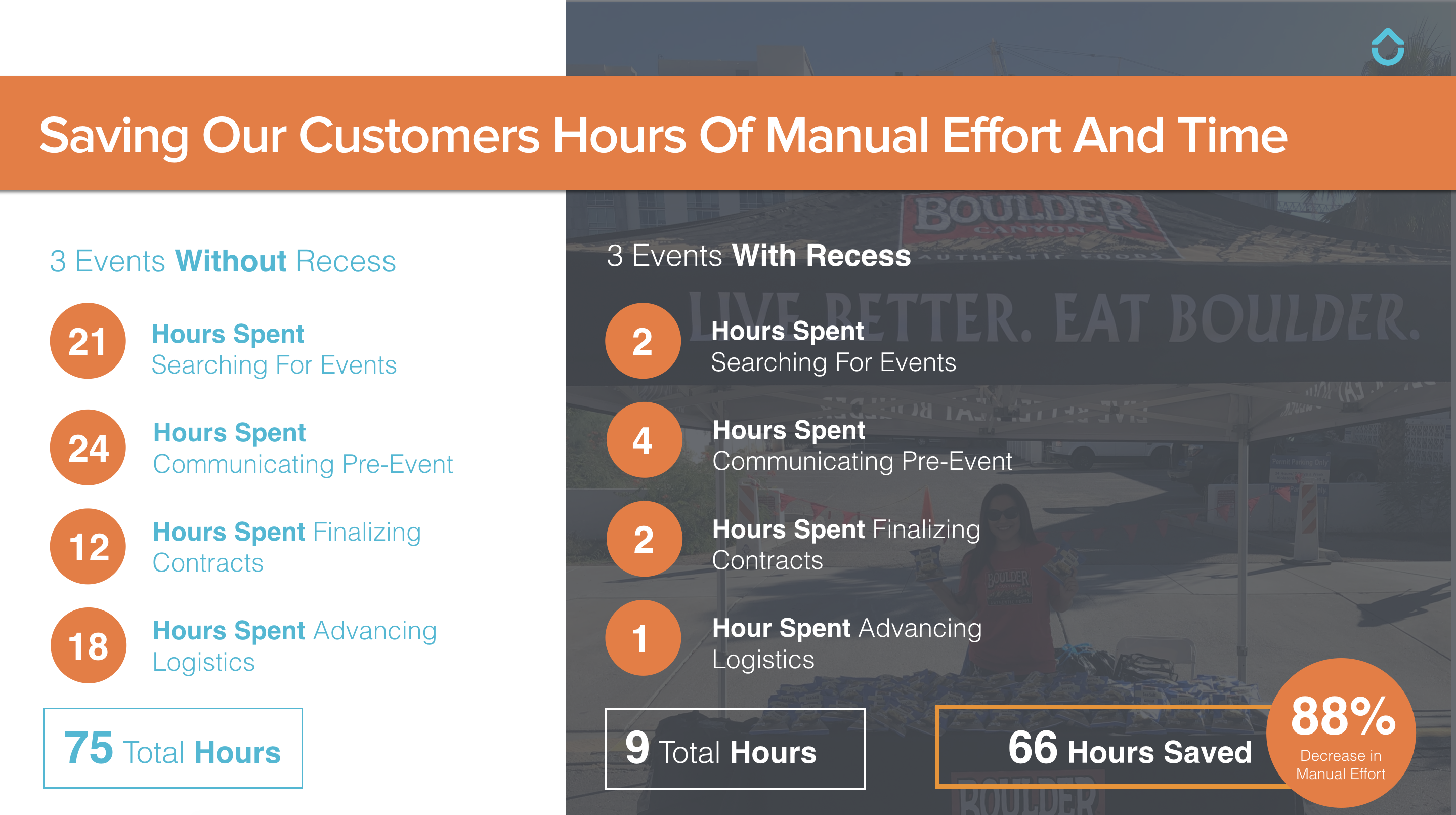 Solution
: RECESS has created a one-stop destination that enables brands to simplify and manage the entire sponsorship transaction with multiple event organizers, including universities, in less time and at a lower price.
How RECESS improved the event sponsorship process by 88%
All-in-one platform
Before working with RECESS, Carrie Berger, Brand Manager at Utz, spent seven hours discovering and researching each potential event to sponsor. With RECESS, Utz had a direct line to thousands of event organizers accessible all in one place. Carrie was able to find, book, and coordinate live events through one single platform, removing the need to individually search for events.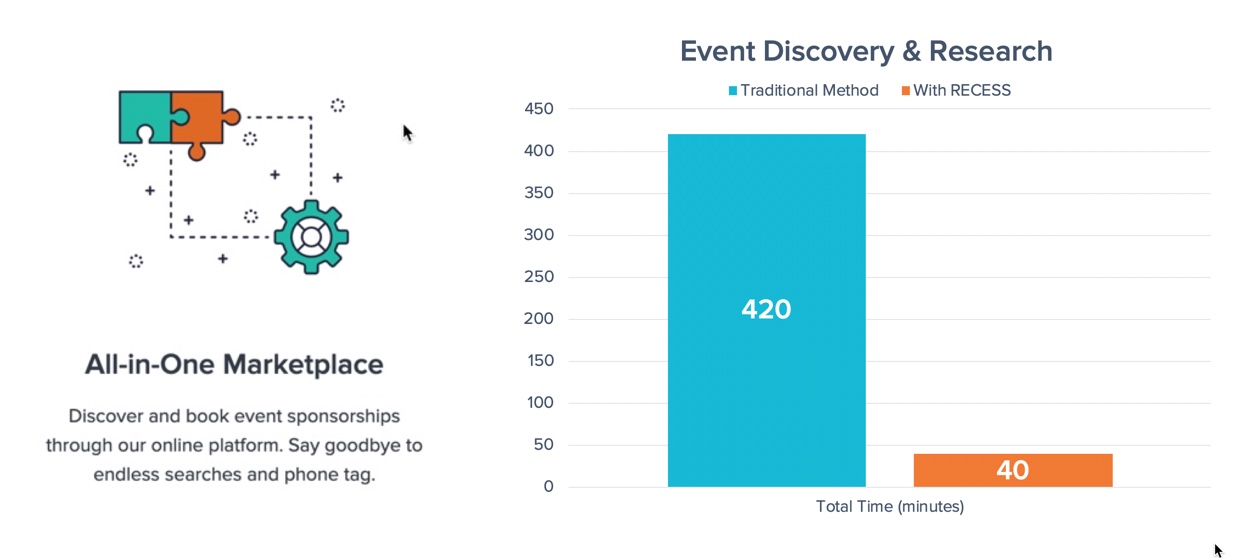 Research time was reduced to 40 minutes per event.
Smart targeting
Another pain point during the event sponsorship process was the communication time it required of Carrie in order to fully understand the scope of the events and types of audiences that attend them. She normally spent eight hours per event dedicated to communication with event organizers before contracts were even finalized.
RECESS simplified this process by providing insight into each event and audience from a wide inventory that enables Carrie to filter and compare events side by side. She was able to select specific sponsorship opportunities that match requirements without needing to spend for packages that included elements she might not have necessarily needed.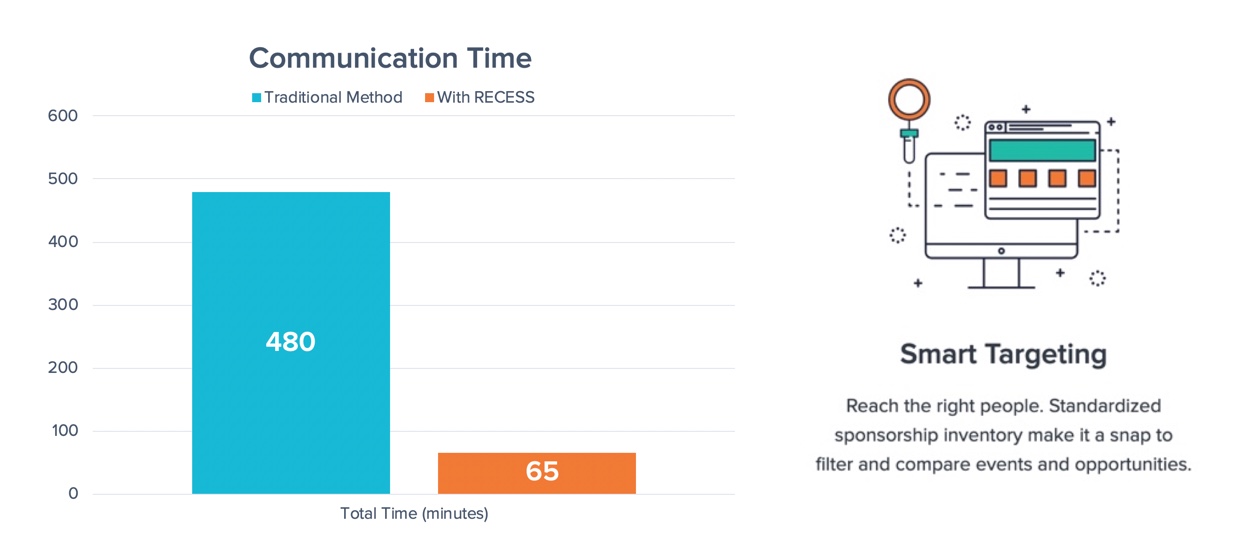 Communication pre-contract time was reduced just over an hour per event.
Easy contracts and payments
Contract negotiations are frequently drawn out through multiple emails and phone calls with each individual event to agree on terms. Carrie spent approximately four hours negotiating contracts with six hours dedicated to advancing logistics for a grand total of ten hours spent on this last step finalizing the sponsorship details.
Additionally, her company's lawyers and finance teams were also engaged in contract reviews, increasing the workload across multiple stakeholders.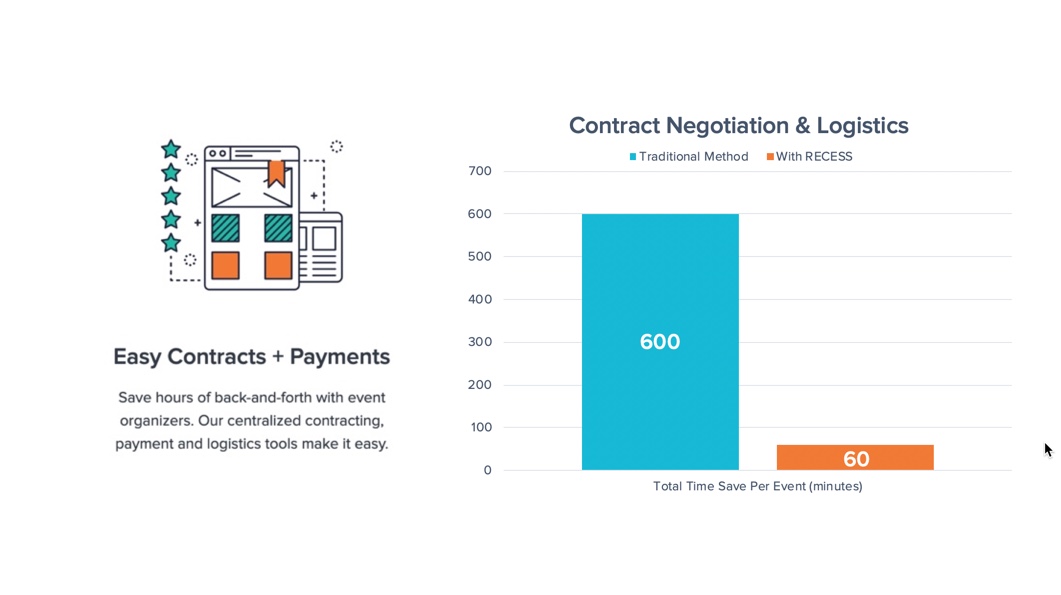 To mitigate this issue, RECESS provided Carrie a centralized contracting, payments and logistics platform to save hours of back-and-forth communication with multiple organizers by gathering all the rights and restrictions for each event up front. Carrie was able to coordinate a single contract with RECESS which covered all events.
The final stage of contract finalization and logistical planning was reduced to one hour.
In the end, RECESS delivered time savings of 88% by reducing the hours spent on the event sponsorship process from 25 hours to three hours per event, which is a difference that's equivalent to nearly three full days worth of work.
How RECESS lowered the average sponsorship fee by 67%
Through Recess, Utz was able to quickly compare and chose the most effective and efficient events to sponsor. Each Utz sponsorship agreement secured through Recess came in at a cost of $1,000 compared to the typical average of $3,000 for past events that were not secured through Recess.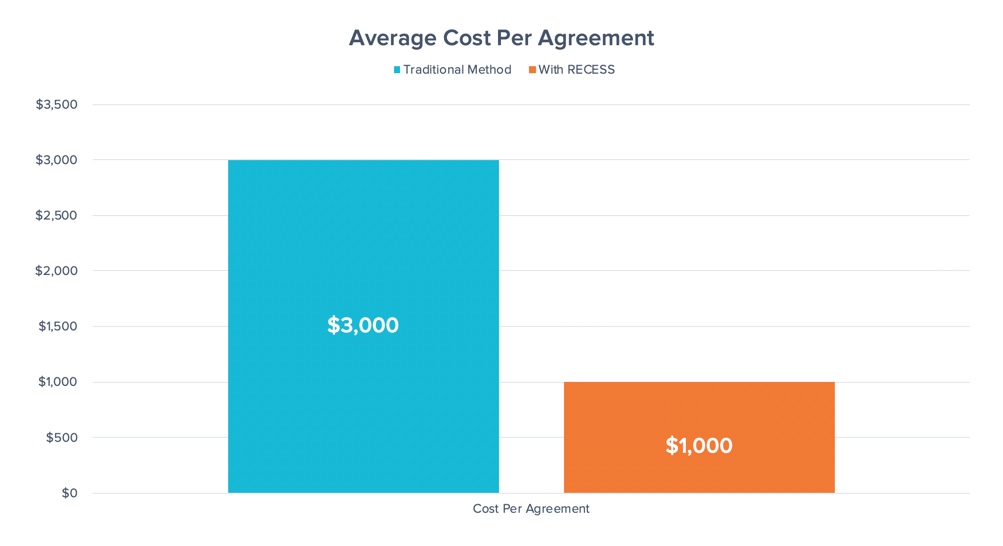 This resulted in savings of more than 67%.
A customer-centric service platform
RECESS functioned as more than just a platform used to book events. Carrie recognized the stellar customer service and event production expertise as obvious advantages of working with Recess.
"Everyone [at RECESS] cared about

how the event took place...

I had a team creating the event for me,

instead of me creating the event,"
A few highlights from Utz Events sponsored through RECESS
Devils on Mill, Arizona State University
The premier game day experience before each home Sun Devil football game. The event begins 3 hours before kickoff and averages an attendance of over 4,000 students, community members, alumni, and Sun Devil Fans. The event includes interactive games, live entertainment, food, and more.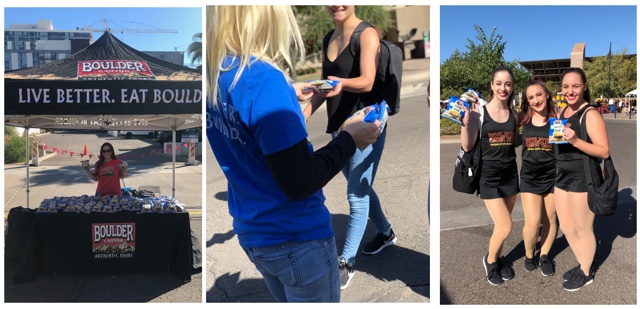 Devils On Mill Tradition Video on Vimeo.
Splash Bash - Arizona State University
Splash Bash is a welcome week event for students that occurs the day after classes start in the Sun Devil Fitness Complex. The event engages more than 3,000 incoming students and includes movies, live entertainment, games, and more.

Sign up or contact Jack Shannon at jack@recess.is to see how we can help you simplify and maximize the return on event sponsorships today!